Day two started with a trip to the Embassy suites to pick up my media pass I got for the Rolex Monterey Motorsports Reunion. When I got there I was greeted by Robert Himler's (creator of Razzi.me and many other websites) awesome twin turbo Lamborghini Gallardo by Underground Racing.
I didn't get the chance to meet Robert but he saw the photos and said he'd be interested in a photoshoot if he's in Monterey next year so you can look forward to that!
This Maserati 3500GT was parked just behind the Gallardo.
After I got my pass it was off to the races!
There were cars flying around the track as soon as we got there. The classic Ferrari class was definitely the coolest to watch. The amount of money zipping around the track was staggering.
Despite having a media pass I didn't get a photo vest so I was unable to get close to the track action. Since shooting far away with a maximum zoom level of 70mm (on a full-frame sensor no less) wasn't favorable we went into the paddock area where Jaguar had an elaborate set up of cars.
They had everything from the new XK-RS...
...to this collection of D-types.
As this Can-Am car was headed out to the starting grid...
...this 275 GTB was coming in after some track time.
As more Can-Am cars started to line up I spotted this driver in vintage racing gear.
Mazda brought out their 787B prototype racer for the event.
BMW brought out the awesome new M5. This car looks great in person, I can't wait to see them around.
They also brought out the stunning 328 Hommage concept.
The interior of the Hommage.
This Datsun 510/Bluebird really caught my eye.
This John Player Special F1 car was hiding out in the Pit Garages.
I loved the look of this old Aston Martin.
This Daytona was being pushed back under its tent.
Despite being a little worse for wear this 300SL looked great.
As did this Lusso.
This Gullwing happens to be an Arizona car.
I really want to own one of these someday.
I saw this car and immediately recognized it from Forza Motorsport, the Porsche 956.
Another guy dressed up in period racing attire.
Couldn't believe this Million dollar plus Alfa just sitting there...
The Porsche 908 is one of my favorites.
Things don't go well for everybody at the Historic Races...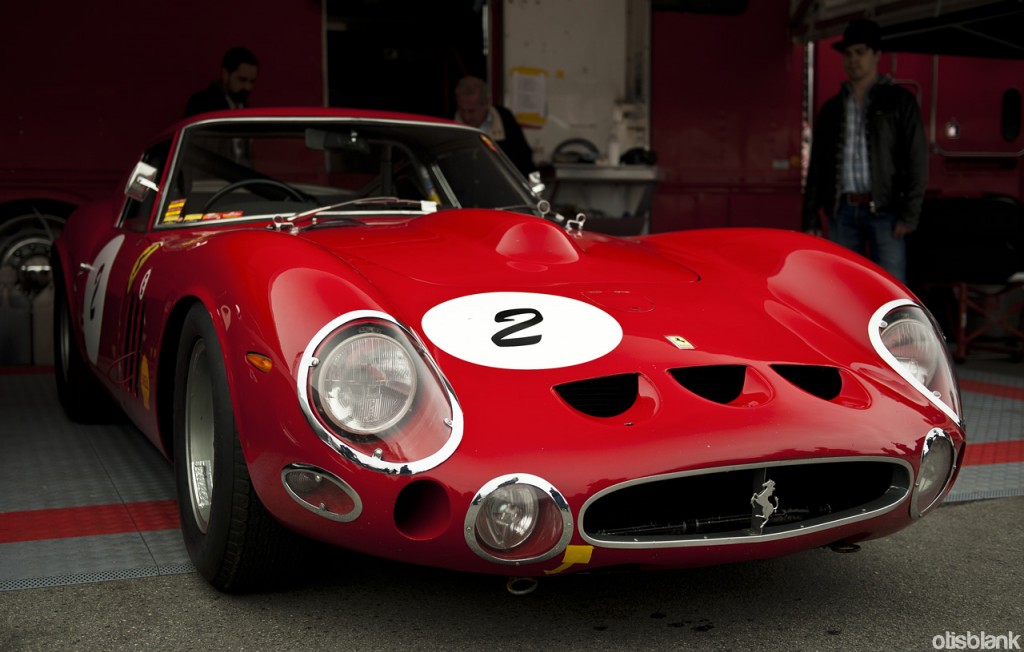 Since there was a large class for Ferrari 250 GTO's at Pebble Beach this year, there were plenty present at the Motorsports Reunion as well.
There was a huge line up of cobra's, and since this was Monterey, you can bet these were all real Shelby's.
This was my second time seeing this awesome Zagato Bodied Aston in Monterey and it was a pleasure.
Since Jaguar was the featured marque of the event, they had the latest and greatest, like this 2012 XFR.
After parousing the paddock for a couple hours, we went over to the car corral area where we came across a very under-appreciated car, the Iso Grifo.
Also present was a group of Lotuses, or is it Loti?
There was also this Guards Red Carrera GT which I saw 3 more times over the weekend.
After the races we went out to a small Ferrari show at a place called the barnyard. On the way we got stuck behind this F430. It's pretty common to get stuck behind exotics in Monterey during car week since they make up a significant percentage of the cars on the road.
When I say exotics are common in Monterey during car week I'm not kidding. There are four exotics in this photo and I only intended to get a picture of the 458...
We got to the Barnyard show and immediately gravitated towards this Miura.
This car looks great in any color.
I loved the mirrors mounted to the fenders of the car.
Funny how it was a Ferrari show and yet most of my photos from it are of the Lamborghini's that were present.
While not necessarily a crowd favorite, the Ferrari 612 will always be one of my favorite cars.
The interior of a 575 SuperAmerica.
Since the Barnyard show was fairly un-impressive we went back to Ocean Avenue in Carmel where we saw this familiar LP670-4.
Shortly after that, we saw this LP550-2 Balboni.
This 458 was also a familiar sight.
Like I said before, I need to own one of these one day.
This rare Pre-War Alfa Romeo was hiding out on a side street in Carmel.
The Ford GT is another one of my favorites, and it looks great in Gulf Livery.
While walking back to the car to head out to the car auctions downtown, we saw this new Porsche Panamera Turbo S in an awesome shade of blue.
As we got to the RM Auction the first car that really caught my eye was this pre-war Mercedes Benz.
Inside they had some of their featured cars laid out for everyone to see, even those who weren't paying to go into the auction/show area.
They also had tons of old rare motorcycles on display.
DuPont Registry brought out the Hennesy Venom GT, still not sure what I think about this car.
On the way out to check out what was in the Parking Garage I stopped to take a picture of this old supercharged Mercedes.
In the garage there was this lime green Miura. I don't think I saw a conservatively colored Miura the whole weekend.
Also present in the garage was this 599 GTO, probably the best looking current model Ferrari.
After walking a little more and seeing nothing of real interest, I looked over to my right and this beast was staring back at me. This being the first Aventador I'd ever seen, it literally stopped me in my tracks.
This is a car you must see in person to make judgement on it. The aggressive lines communicate much better when viewed in the flesh.
We headed back out to the auction area where this Monza was headed in to be sold.
After that, we called it a day, it was definitely a long one. Day 3 post with Pebble Beach Concours d'Elegance coverage coming soon!